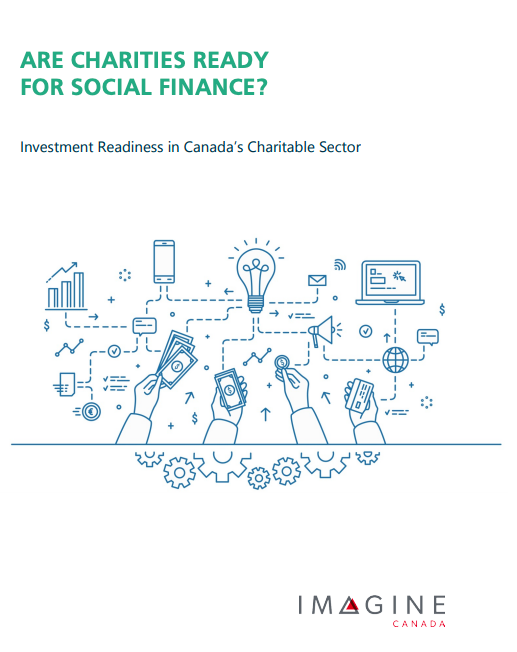 Social finance is an investment that seeks a measurable social, cultural, and/or environmental impact as well as a financial return for the investor(s). The promise of social finance for charities is that it will provide a source of capital that could allow these organizations to maximize their impact and become more resilient in an increasingly precarious funding environment.
There is increasing interest in social finance as a means for scaling socially innovative solutions to complex and persistent social, cultural, and environmental challenges. This is reflected in the Government of Canada's $755 million investment into the establishment of a Social Finance Fund, which is intended to provide affordable, repayable capital to "social purpose organizations" – e.g., charities, nonprofits, cooperatives, and for-profit social enterprises. One of the main challenges will be to ensure that there is sufficient uptake of the capital to be made available through this fund. Given that a lack of investment readiness among social purpose organizations is often identified as a key reason for the underutilization of social finance in other jurisdictions, this report aims to answer the question of whether Canadian charities are ready for social finance.
Key results across five themes indicate that many charities are likely not ready for social finance: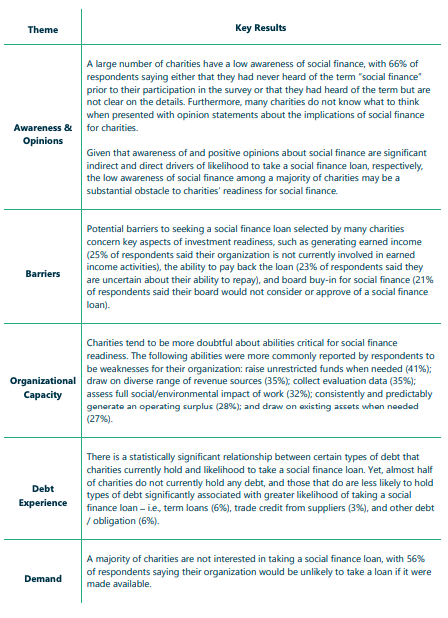 Although it appears that many charities are likely not ready for social finance, the results also point towards a subset of charities that are likely ready or close to it: those with larger annual revenues. The survey found that charities with larger annual revenues are more likely to:
• be aware of and hold positive opinions about social finance;
• take a social finance loan, were it made available;
• currently hold term loans, which is significantly correlated with greater awareness of social finance and greater likelihood to take a social finance loan; and;
• report stronger organizational capacity, which is significantly negatively correlated with many social finance barriers (i.e., charities with stronger capacity are less likely to say they would face barriers that charities with weaker capacity say they would face if seeking a social finance loan).
In addition to investment readiness, the design of funds and financial instruments has important implications for whether social purpose organizations will be able to access social finance. As such, this report suggests that work is still needed on both the demand side and the supply side of the social finance market to ensure the sufficient uptake of capital. The results give some indication of areas that government policymakers and social finance intermediaries can target to build investment readiness, and provides information that can help these actors to better adapt social finance to charities' needs.
Social finance will not be appropriate for every charity. But for those charities – large or small – for which it may be appropriate, they should be able to access financing that meets their needs. This will contribute to the development of a more inclusive and diverse market that addresses a wider variety of social, cultural, and environmental challenges.
To download the full report, click here.
Imagine Canada is a national, bilingual charitable organization whose cause is Canada's charities. Through our advocacy efforts, research and social enterprises, we help strengthen charities, nonprofits and social entrepreneurs so they can better fulfill their missions. Our vision is of a strong Canada where charities work together alongside business and government to build resilient and vibrant communities.