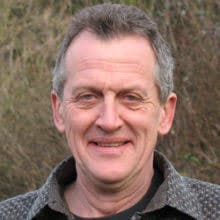 It's lunchtime and I have arrived to speak at an event for legacy fundraisers.
I am helping myself to a coffee.

A legacy fundraiser standing next to me says, "Where's the water?" (Please note there was no "Hi" or smile.)

"In front of you in the flask saying hot water," I reply, smiling.

"No, I don't want that water. Do you have cold water?" he said.

I respond, "It's just here (less than an arm's length away), but I don't work here."

The guy took his water and walked away, just as I was going to ask him his name and introduce myself as Richard.

Was he ill? No, he sat down and stayed for three hours. He took a few notes and asked no questions.

Really, I don't care what mood he was in. What I do care about is: how does he respond to legacy prospects? I fully realize these are tough times for us all, but in our encounter, he was:
rude

presumptuous, and

uninterested in anyone around him
These are three sins which should be banned from the lives of fundraisers.
No hello. No smile. Noth-ing.

Mr X assumed I was an organizer or waiter. I had a name tag so it should have been clear I was one of those attending, not serving. I judged him to be a…. well, I won't put the words in writing.

I wondered: Why the hell did he become a fundraiser?
Followed by: How much damage has he done?
My final question: When communicating with a legacy prospect, how quickly does he wrongly judge their potential?

Judgement and first impressions

How quickly do we judge people?

Research (from numerous sources) shows a similar result. It is between 1/10th and 1/30th of a second. (I judged him very fast: Get out of fundraising!)
We live in a world of communication overload. The usual is forgotten. The exceptional remembered, and bad two-way communications can leave a scar for life.

I hear about these scars in focus groups. Over 800 supporters that I have met have taken legacies out of their Wills but they do not like to "complain."

Good relationships – especially NOW in uncertain times - are crucial

For some reason I hate phrases like "donor care." To me, it is jargon. By the way, I hate most job titles in fundraising for reasons I will discuss in a future article.
- A great fundraiser has natural built-in love, interest and inquisitiveness in other people.
- We yearn to know more but without intruding on the lives of supporters.
- We strive to understand what information they need to ensure donor happiness.

These qualities are something which have to be in the heart of every fundraiser.

A training gap

How many courses are there on corporate and trust/foundation fundraising?
How many courses are there on individual giving?
How many courses are there on fundraising strategies?
And -
How many training sessions are there on how to listen to and understand prospects?

We have a major imbalance, because every stakeholder – corporate, trust, statutory and individual, needs to be listened to and understood.
That is why meeting supporters constantly intrigues, fascinates and informs me. Especially when they bounce ideas off one another (not possible in a one to one).

Listening at events, on the phone and one to one are the biggest opportunities we have to understand a legacy prospect's journey and to understand how to maintain their happiness and future gift.

Do we treat supporters as equals or idiots?

Here is one recent example: I was sent a telephone script which was to provide follow-up to a legacy letter. The first 2.5 minutes were the charity telling the (long-term!) supporters what the charity does. It took about three minutes to get to the objective of the call: legacy giving.

My response was immediate. It was patronizing, I wondered what the call was for. I wanted them to get to the point and to "treat me with respect."
All this call did was produce doubt: Why is this charity calling?

It is the age of intelligent donors and legacy prospects

Current legacy prospects are the silent generation and baby boomers. Are they savvy? Have they worked? Are they exceptionally generous?

Yes, to all three questions.

Do they really understand the impact they make?

No, because we run out of time explaining features and not outcomes. Sadly, they often cannot imagine the impact their legacy might make.

SHUT UP and LISTEN

The best way of understanding the needs and knowledge of supporters is to find out what they do and do not know. What information do they need to put their future gift in their Will NOW?

The only way to find this out is by asking questions.

The only solution is training fundraisers in active listening techniques.

How many courses focus on this? I run them, but few others do. Shame on the sector.

Listening is the only thread which should be sewn into the hearts and minds of all fundraisers.

My belated answer to "Where's the water?" is... "where is your love and interest in people?"

Charities are all about partnerships – the giver and the receiver.

Dwight Eisenhower said, "Motivation is the art of getting people to do what you want them to do because they want to do it."

That is also what great fundraising is all about.

---
Richard Radcliffe FCIoF Cert is now 68 and after over 30 years in advising charities on increasing legacy income is as frustrated as he has ever been. But he is determined to continue to affect change in donor and fundraiser mindsets until he dies. Which he hopes is not for a long while.