Prospect research is hard, and it takes a long time! And, more often than not, research is done on a part-time basis by fundraising staff or someone on staff who is "assigned" to do research, but also has other duties such as database management and/or proposal writing (common areas of expertise that often go hand-in-hand with research).
In addition, prospect researchers are often stuck in a "reactive" mode of working – doing research on potential donors forwarded to them by the fundraising staff. Some fundraisers ask for a "FULL profile" on a prospect before any qualification of the prospect has even begun. This can take over eight hours to create, not counting the time it would take to input the information into the database (which we absolutely will)!
This "profile-dependent" world creates a real (or imaginary) backlog from the get-go when fundraisers feel they need a full profile to start the cultivation cycle. This can happen in small or large fundraising shops, (where often the researcher is separated from the fundraising team and doesn't even know the context of the request) especially if the fundraising shop has been short a researcher or two.
The value of prospect research (and prospect researchers) is greater when it's proactive (lead generation) and strategic (providing well-timed information to assist moving the prospect through the cultivation cycle) which also goes hand-in-hand with moves management.
Before we go any further, I will mention (maybe more than once) that "everything goes in the database!" or, the more popular saying "if it's not in the database, it didn't happen!" In other words, if you do any sort of work on a prospect, record it in the database so the information continues to be updated and dynamic, and not tucked away in a static profile (or god forbid, spreadsheet) somewhere (perhaps unknown to some users). With any luck, you will get to the point where you won't have to do any profiles at all! That's right, I said it. You can point fundraisers to the database record, and bam, there's the info.
To make the best use of everyone's time, researchers have set up staging processes which go hand in hand with the cultivation cycle.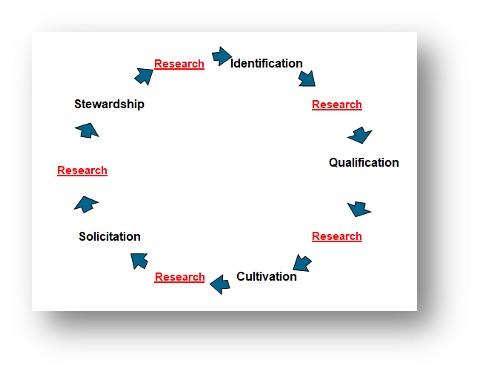 When working through the Cultivation Cycle ask yourself, "How much information does the fundraiser need to get to the next stage?" This will stop you from going down rabbit holes. You know it happens!
Identification
Ask Yourself: How much information does the fundraiser need to pick up the phone and call the prospect?
Identification of new prospects based on internal (database, staff, senior volunteers, peer screening) and external prospect research resources with an affinity and potential capacity to give to the organization.
Research includes basic contact information and high level indicators of interest and capacity.
What research goes in the database:
Contact information, affiliation with your organization, basic capacity indicators, some giving history, and perhaps some community involvement.
Prospect is coded as "Identified."
Other coding might include the potential giving program (Major giving? Planned giving? Both?), and who identified the prospect. This is great for follow-up reports with staff and volunteers.
Qualification
Ask Yourself: What will help the fundraiser start/continue the conversation?
The fundraiser has meaningful contact with the prospect who agrees, or not, to a meeting.
If yes to a meeting, the prospect is assigned to a fundraiser.
Research consists of additional information required for the first meeting between the fundraiser and/or senior volunteer and the prospect.
What research goes in the database:
Potential linkages between the prospect and the organization.
Assignment of fundraiser and/or senior volunteer.
Initial internal ratings of affinity and capacity.
Cultivation
Ask Yourself: What motivates this prospect?
Which cultivation activities might interest the prospect (tours, events, meeting peers and/or professionals)?
Is a brief profile required for any other individuals involved in the cultivation?
More in-depth research may require news alerts on an individual and/or their business.
Should family members be involved in the cultivation?
Is there a trend that the prospect gives more when they are a volunteer? Would they be interested in volunteering?
What information did the fundraiser get from the prospect which may require further digging? Can you organize a debrief?
What goes in the database:
Prospect is coded as "Cultivation"
Any new research information found regarding connections, interests, linkages.
And of course, the fundraiser will put the action and meeting notes in the database!
Solicitation
Ask Yourself: What program might this prospect want to support? What are they financially capable of giving? What have they done in the past to support your findings? E.g., naming opportunities.
Time for the ask! This is where research is the most intensive.
Work with the fundraiser to determine appropriate capacity range and program area for the ask.
A more detailed research profile may be required which includes wealth indicators (real estate, shareholdings, executive compensation, etc.).
Is there recent news regarding the prospect the fundraiser should know before the ask? One last check!
What additional strategic notes can you provide to the fundraiser?
What goes in the database:
Prospect is coded as "Solicitation."
Expected ask amount, expected ask date, and, expected gift date.
Fundraiser activity, moves, and proposal.

Any additional research information:Career history, directorships, personal and family information, wealth indicators, giving history to other organizations, business and foundation details, financials, and funding guidelines. There are fields for everything!
Stewardship
Ask Yourself: How can we keep this donor engaged? What new opportunities might interest the donor? When would be an appropriate time to revisit the donor for an additional gift?
Research includes ongoing tracking of the donor in regard to change in financial status and personal highlights (awards, accolades, and, triumphs, OR sadly, divorce, death, separation or moving away to sunnier climates!).
Tracking the gift installments to tag when it's appropriate to bring the donor back around for another solicitation.
While this is going on, the fundraising and stewardship teams will have their own stewardship tasks to perform to keep the donor engaged!
What goes in the database:
Prospect is coded as "Stewardship."
Gift amount (Is there an installment schedule?), adjustment to capacity and affinity ratings, reading the Memorandum of Understanding to see if this is an "ultimate" gift or if they would be open to gifting again, and, adding an approximate date for the next solicitation.
So research staging makes the most sense when working with the fundraising team on their donor journey. If all of the research is done at the Identification Stage, it could feasibly go stale over time (as full cultivation and solicitation takes a long time and prospects do move around and change their status) and/or the research may not be needed if a qualification meeting doesn't take place and cultivation doesn't even begin!
An interactive connection between the research and the fundraising teams makes the most sense for being efficient with everyone's time, making sure all information is timely and relevant, and ideally allowing for the right ask, at the right amount, for the right program, at the right time.
Tracey Church has been a professional researcher for over 20 years and is the Past President of the Association of Professional Researchers in Advancement (APRA-Canada). She is the Principal, Researcher and Consultant with Tracey Church & Associates. Tracey is proud to be the Co-Editor and Co-Author of APRA-Canada's first book "Prospect Research in Canada: An Essential Guide for Researchers and Fundraisers." Tracey has worked with over 400 organizations in the fields of healthcare, education, social services, the arts, research, international, Indigenous, and the environment. She is a part-time faculty member at Western University (London, Ontario) teaching the Prospect Research in Fundraising course in the Master of Library and Information Science program (MLIS).