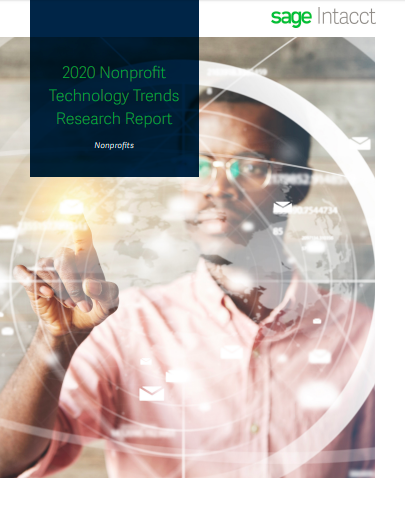 There is no doubt that technology has transformed the way we work, play, and live our lives over the last decade. Technology changes have affected every industry, and the nonprofit sector is no different. In an industry where dollars mean the difference between having or not having meals, housing, healthcare or education, the right technology can help improve efficiency, achieve compliance, save money, and ultimately, deliver greater mission impact.
As we enter a new decade, we were curious to learn how nonprofits continue to use technology to aid in achieving their mission. With that in mind, Sage Intacct conducted a nonprofit technology survey asking finance leaders across the nonprofit sector to provide their perspective on the industry, the challenges they face and technology engagement.
Technology is so prevalent in our world that we often take it for granted. When it comes to the nonprofit sector, technology use isn't about which fancy gadget to buy next - it's about strategic tools that can drive change to deliver on the nonprofit's mission.
The results of the 2020 Nonprofit Technology Trend Research Report confirm these notions, highlighting that while nonprofit giving seems to be trending upward, organizations are still bogged down with manual, inefficient processes that could be solved by technology.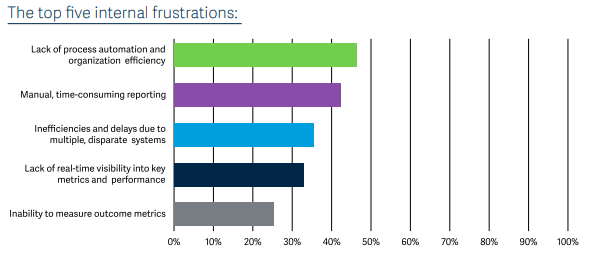 [T]elling your story and communicating your successes with constituents is difficult without the right tools in place. The biggest internal frustrations noted by respondents were:
1. Lack of process automation and organization efficiency
2. Manual, time-consuming reporting
3. Inefficiencies and delays due to multiple, disparate systems
These technology barriers can impede growth, cause internal frustration, and hinder a nonprofit's ability to paint an accurate picture of financial transparency.
One possible reason for these frustrations is that 45% of survey respondents use small business software ill-equipped to provide robust reporting and visibility to drive decision making. Since many organizations who use software solutions like QuickBooks also rely heavily on spreadsheets, this directly leads to a lack of data integrity in a system of record.
[W]hile adopting up-to-date technology can seem cost prohibitive, according to Yale Insights, "Effective use of technology can spawn innovation, improvements in efficacy, and better delivery on mission, more than justifying the cost and the challenges of organizational change."
For the entire study, click here
Sage Intacct is the AICPA's preferred provider of cloud financial applications. Specializing in helping nonprofits of all types—including faith-based organizations, charities, trade and membership associations, and cultural institutions—Sage Intacct streamlines grant, fund, project, and donor accounting, while delivering real-time visibility into the metrics that matter. For more information, visit: www.sageintacct.com/nonprofit or contact us at 877-437-7765
research-2020-nonprofit-technology-trends-research-repo