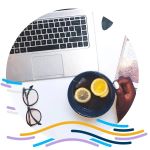 DonorPerfect, a leading fundraising software trusted by more than 50,000 nonprofit professionals, will host its 13th Annual Community Conference on June 6th and 7th. It's two half-days of free, virtual sessions beginning at 10:30 AM and ending at 4:30 PM Eastern.
Sponsored by QuickBooks, DonorSearch, DP Text, Constant Contact, Givecloud, Qgiv, Appeal Maker, iWave, and Rediker Software, the 2023 Community Conference, REFRESH, will encourage attendees to reframe their challenges as opportunities for creativity and innovation. This year's lineup of industry thought leaders and DonorPerfect software experts will share actionable advice and best practices for nonprofit professionals to elevate their fundraising strategies on the fly.
Philanthropic organizations based in Canada, specifically, will benefit from sessions outlining the dos and don'ts of charitable receipting to remain in compliance with the Canada Revenue Agency (CRA).
To avoid costly receipting mistakes and time-consuming data errors, attendees will be able to join Toronto-based charity lawyer and legal expert Mark Blumberg's session - "How to Correctly Reassess Your Charitable Receipting Process" - on June 6th. Blumberg will demonstrate when to issue tax receipts, the information required, how to determine fair market value, how charitable receipting may affect your fundraising events, and more.
On June 7th, DonorPerfect expert Sarah Lalonde will demonstrate how Canadian nonprofits can introduce best practices for charitable receipting into their existing workflows, including ideas to use receipting as a way to better communicate with donors.
The conference will be emceed by executive fundraising coach Mallory Erickson, host of the What the Fundraising podcast and creator of the Power Partners Formula. Erickson supports nonprofit professionals in making fundamental changes to their fundraising and leadership practices. The keynote session, "Reigniting Innovation Within Your Organization," will be delivered by international nonprofit executive coach Joan Garry. As Principal of Joan Garry Consulting, she specializes in substantial change management, crisis management, and leadership transitions.

Other speakers include: Tycely Williams, Dana Snyder, Rhea Wong, Sandra Allen, Erica Waasdorp, Nathan Chappell, and Sabrina Walker Hernandez, in addition to industry leaders from The Veritus Group, Intuit, DonorSearch, Constant Contact, Givecloud, and Qgiv. Fundraising experts from DonorPerfect will host informative, user-focused sessions regarding online donation forms, nonprofit performance metrics, monthly giving, lapsed donor reactivation, major gift cultivation, donor stewardship, and more.
"The DonorPerfect Community Conference offers the nonprofit sector a space for learning and connection that we are grateful to provide," said Eleanor Stasio, DonorPerfect's VP of Implementation and the Executive Producer of the conference. "With this year's incredible lineup of speakers, we are proud to showcase best practices and ideas to help any fundraiser refresh their outlook and approach to their work."
Visit the DonorPerfect Community Conference Hub to register for REFRESH or review previous sessions.
Founded in 1981, DonorPerfect's primary focus is to help nonprofits grow their fundraising operations through operational efficiency and innovation.