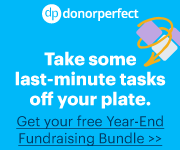 DonorPerfect is here to help you achieve your year-end fundraising goals! We've created a bundle of resources to walk you through everything you need for a successful year-end fundraising campaign, including how the latest Artificial Intelligence (AI) tools can help you save time and work creatively.
For DonorPerfect users, 37% of all giving happens in October, November, and December. For many, the final few months of the year are a season of giving and generosity. It's also a time of deadlines for charitable giving tax incentives, creating perfect conditions for nonprofits to raise a lot of funding in a relatively short amount of time.
Are you ready to tackle this year's busy giving season? If you could use an extra hand getting ready, executing, and reporting on your year-end fundraising efforts, DonorPerfect has your back. The Year-End Fundraising Resource Bundle includes AI for Nonprofits, the Giving Tuesday Cheat Sheet, and the Year-End Fundraising Cheat Sheet.
AI for nonprofits
AI will never replace what you bring to the table. Passion and creativity for inspiring change cannot be generated by technology. But, generating nonprofit communications using AI provides a jumping-off point for writing routine fundraising content and saves resources wasted on menial tasks. Studies show that implementing AI in your marketing techniques can increase your organization's return on investment by up to 30%.
Our free guide explores how today's nonprofits can use AI tools to improve cost and operational efficiency for a smooth-running organization that is able to support its mission and beneficiaries with abundance.
The Giving Tuesday cheat sheet
Last year, 35 million people and 80 countries participated in Giving Tuesday, and these numbers are steadily increasing each year. When the big day is over, more than one-third of annual giving happens in December alone. This presents an amazing opportunity for any size nonprofit to enter the New Year with new relationships, new insight into their retention strategies, and new ideas to engage their community online.
That's why we created The Giving Tuesday Cheat Sheet. Let's take the Giving Tuesday journey together, in three bite-sized pieces:
Phase 1: How to Set Giving Tuesday Goals & Plan Your Campaign
Phase 2: How to Create Actionable Giving Tuesday Communications
Phase 3: How to Execute Successful Giving Tuesday Stewardship
The year-end fundraising cheat sheet
The Year-End Fundraising Cheat Sheet invites you to plan your year-end strategy around the donor engagement cycle. By thoughtfully planning and engaging with your donors in the months leading up to December, your ask won't come as a surprise, and your supporters will be primed and ready to give generously before they even see your solicitations.
We've broken planning and executing year-end fundraising into four digestible phases:
Phase 1: Planning, identification, and acquisition
Phase 2: Qualification and cultivation
Phase 3: Solicitation
Phase 4: Stewardship and review