"Self-confidence is every would-be world-changer's secret ally," says Ken Burnett. "It's the crucial internal ingredient in the make-up of anyone who would achieve great things. Most of us struggle to deploy at least a veneer of self-belief and succeed or fail to varying extents." (Mevolution, 2013)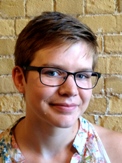 Burnett tells a very powerful story in (Me)volution about Noerine Kaleeba, a world leader and changer in the fight against AIDS. Kaleeba may be a world leader, but she is also a normal, regular woman who had the compulsion, commitment and confidence to create change.
If you're going to play a part in changing the world, you will need self-confidence. No one but you can create that for yourself. Confidence is the third step in the (Me)volution model and the last solo step before inviting others to join you on your (Me)volution journey.
Confidence or arrogance?
Canadian society teaches us to be overly humble. A lot of us view confidence as arrogance – but it is not. Having confidence in yourself simply means that you trust and believe in your abilities.
My mother has said to me on many occasions, "Christina, you have a confidence problem … you have way too much of it." And she is absolutely correct. But like Burnett said, I am willing to be confident even in the event that I fail, because at least I will have learned something.
Confidence with donors
In a donor solicitation, for example, we can be both confident and humble. Being confident about your organization's mission when speaking to a potential donor doesn't make you arrogant; it makes you passionate. It shows that you and your organization are confident that you can fulfill the mandate of your organization. And it makes your solicitation much more convincing.
Finding confidence within
Take a moment and do a five-minute exercise. Think about the compulsion you listened to after reading A compelling risk, and write down the actions you would be confident in taking to turn that compulsion into action. The list will definitely be smaller than what you truly can do. Try again, knowing that no-one will see the list (unless you post it to Facebook). Your list grew didn't it?
Now add the things that you don't have the confidence to do. Can you identify why not? Were the actions too big, or outside your specific skill set? Would they include a major life change? Would they change your relationships with other people? Are they scary? Or is the risk of failing just too great?
Failure may transform yourself and others
All of the previous questions can be reasonably solved with help from others. But the risk of failing is something that all the strategic planning in the world cannot resolve. I am going to redefine failing. It is the opportunity to try again and succeed. If people notice that you are struggling with your compulsion, they might be more willing to help out. Is your compulsion worth this risk? Absolutely!
Allow yourself to feel confident and then allow yourself to waver. Know that the risk you take will build your confidence and teach you to believe in yourself, your mission and your organization. Let's start a movement.
Connect with the (Me)volution community on Facebook, Twitter or their blog.
Christina Hemens was drawn to philanthropy while growing up in Muskoka, Ontario. At Concordia University in Montreal, she honed her philanthropic spirit and passion for fundraising. After completing her post-graduate certification in Fundraising and Volunteer Management from Humber College she is now Marketing and Communications Coordinator at (me)volution, where she is able to create a positive difference in her lifetime.
Contact her through @ChristinaHemens or by email.