If your charity is raising funds for relief in the Philippines, be sure to list it on www.crisisreliefcentre.org. CanadaHelps describes its dedicated Crisis Relief Centre as "a go-to destination for giving during humanitarian disasters."
The site provides Canadians a safe, curated list of registered Canadian charities that are on the ground directly providing relief. Additional lists include trusted charities supporting relief through fundraising efforts and long-term aid. Canadians can easily and securely donate online directly to any of these charitable efforts with confidence that their funds are going to the right place.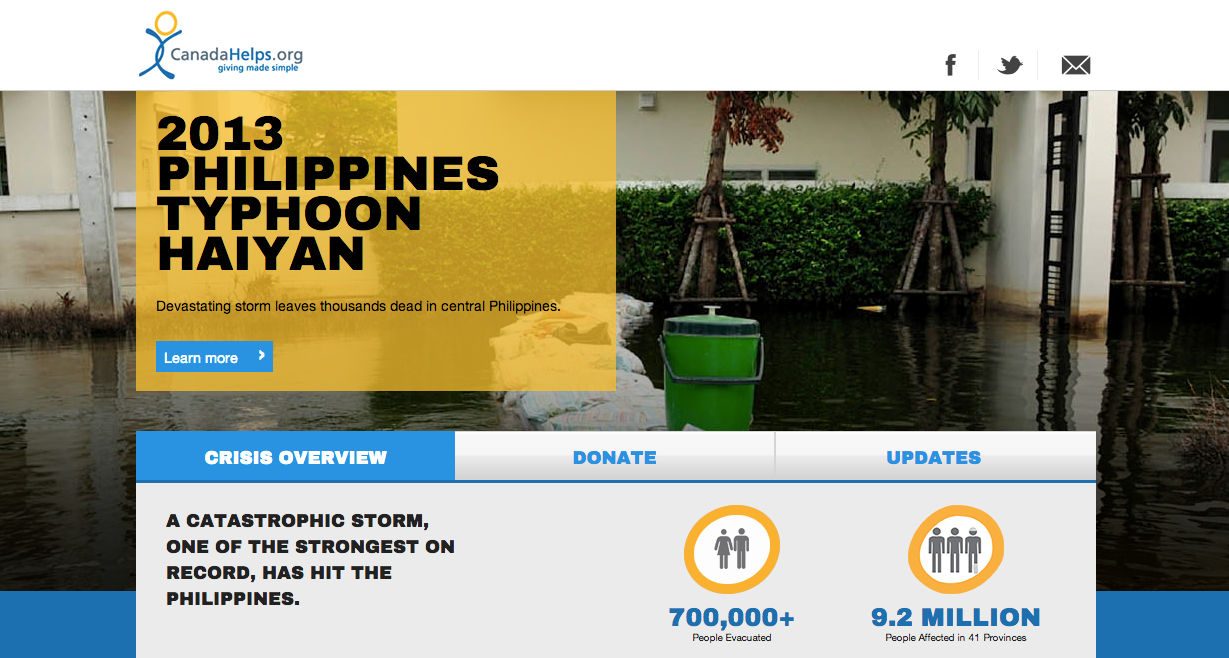 "In times of such catastrophic crisis, Canadians are compelled to help, but often find it difficult to identify the organizations that are best positioned to meet urgent humanitarian needs. The CanadaHelps Crisis Relief Centre simplifies this process," says CanadaHelps CEO Marina Glogovac.
Donations spike right away
Canadians started donating immediately after first media reports. Donations to listed charities on November 11, 2013 compared to the week before Typhoon Haiyan increased almost 5000%, while the average donation size increased 195%. The Government of Canada has announced a program to match relief donations to Canadian Charities through December 9.
GlobalMedic Emergency Programs Officer Andrew Budziak is deeply grateful for the extra profile that the Crisis Relief Centre creates for his charity. "GlobalMedic has teams in the Philippines running clean water programs. The situation in the country is dire: over 9 million people are in need of assistance. Clean drinking water is a primary concern. The CanadaHelps Crisis Relief Centre brings visibility to our vital work. Your donations help our team deliver drinking water to those that need it most," he says.
Registered Canadian charities which are actively providing humanitarian aid in response to Typhoon Haiyan but are not currently listed on the site are invited to contact CanadaHelps to be included.