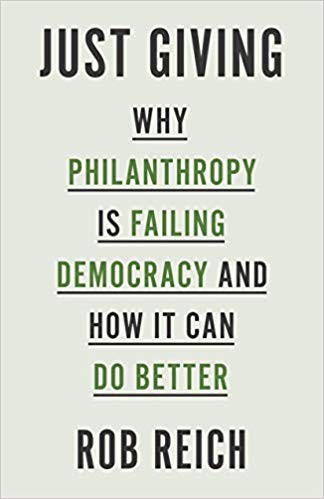 Rob Reich's Just Giving: Why Philanthropy is Failing Democracy and How It Can Do Better explores giving as a social and political practice. A professor of political science, director of the Center for Ethics in Society and co-director of the Center on Philanthropy and Civil Society, all at Stanford University, Reich sets out to establish a political theory of philanthropy to serve as a framework for exploring its role in liberal democratic society.
Philanthropy professionals, of which I am one, have tended to operate on the premise that all giving is good, and more giving is better.
Reich argues that it "should not be obvious…that philanthropy is always and everywhere a good thing."
The book's title is a double entendre, imploring the reader to consider philanthropy from the perspective of nothing less than justice. Just Giving is linked thematically to David Callahan's The Givers (2017) and Anand Giridharadas' Winners Take All (2018) as highly critical explorations of modern-day philanthropy and the narrative of philanthropists as heroes. This may be challenging for fundraisers whose professional merit is judged on their ability to get the gift. But Reich contends that philanthropy is not merely about private morality or the expression of personal values: public morality is at stake. Thus, the political consequences of philanthropy—its effect on democratic values and systems—must be considered.
The topic is timely. Canada's Senate Special Committee on the Charitable Sector recently released Catalyst for Change, a wide-ranging report that could significantly impact the structures that underpin philanthropic activity in this country.
Philanthropy professionals have a responsibility to understand the environment in which we work, and the implications of the philanthropic gifts that we facilitate. Without this holistic perspective, we may find ourselves in conflict with democratic values and part of the problem facing our communities, rather than as part of the solution.
Reich explores philanthropy in relation to the key democratic values of liberty and equality: liberty because philanthropy is voluntary, and equality because "for many people and in many historical traditions, philanthropy has something to do with providing for the poor and disadvantaged."
The theory is that "philanthropy results in the lessening of inequality between rich and poor, either through direct transfers…or efforts to improve structural conditions… ." Reich explores the tension between these values and, through an examination of U.S tax structures, finds that "policies governing philanthropy appear to be indifferent to equality, and instead valorize and subsidize the exercise of liberty."
Reich also finds that, again in the U.S context, at most "one-third of charity is directed to the needs of the poor."
While U.S. philanthropic output is greater than any other country on the planet, it may come at a cost to democracy as wealthy donors weaponize their giving to support causes that align with their political stripes, park their substantial assets in donor-advised funds with no disbursement requirements and even embark on private philanthropic ventures with virtually no requirements for transparency or accountability. Whether in the U.S, Canada or elsewhere, we can't forget that with every charitable contribution, the government forgoes tax revenue that would have ultimately ended up in public coffers and, at least in theory, deployed for public good.
While he concedes that "private funding of what individuals believe to be in the public interest is legitimate because government is not infallible," Reich strongly objects to the hallmarks of philanthropic structure, specifically, the current design of most tax-subsidized giving, giving in perpetuity, and rigid respect for donor intent.
The Vox Media podcast Future Perfect offers compelling contemporary illustrations of the last two in a recent episode entitled Donors from Beyond the Grave.
Ultimately, Reich contends that "perpetual private philanthropic foundations, no matter how enlightened the founder, are scandalous" and, drawing on the works of Anne-Robert Turgot and John Stuart Mill, demonstrates that this is not a new line of thinking. Readers may be surprised to learn of the vociferous criticism once aimed at the likes of Andrew Carnegie and John D. Rockefeller, now mostly celebrated for their philanthropic acts.
Perpetuity. Donor Direction. Tax Credits. These are the sacred cows of philanthropy, but for Reich, nothing is off the table. Rather, he suggests that ordinary giving by individuals [should aim to promote] pluralism and the decentralization of power…and that philanthropic foundations should focus on discovery, specifically "an experimentalist approach to funding and assessing long-time-horizon policy innovations, in order to secure justice across generations."
Just Giving: Why Philanthropy is Failing Democracy and How It Can Do Better is an important examination of the structures and practices of contemporary philanthropy and their implications for democratic systems. While Reich finds that many of today's policies do not support democracy, he is ultimately able to posit a redemptive path, concluding that philanthropy and democracy canbe compatible.
Reich's work presents an important opportunity for those engaged in both policy-making and philanthropy to consider the efficacy of current structures and their implications. Do we believe that philanthropy should be about exercising personal liberties, or should it focus on bringing about equality? Should it be deployed to maintain the status quo, or to change it? Reich's political theory of philanthropy offers a framework for such questions, in the context of protecting, and perhaps even strengthening, democracy.
Just Giving serves as an invitation to the reader—and the sector—to examine core principles and policies in a new light, and courageously forge new ones that better meet our democratic aspirations.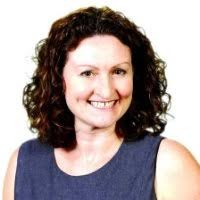 Juniper Locilento, MPNL, CFRE is Senior Director, Development at the YMCA of Greater Toronto. She serves as Vice President of Public Affairs, AFP Greater Toronto Chapter, and is a lecturer in the Fundraising Management Program at Ryerson University's Chang School. @JBerri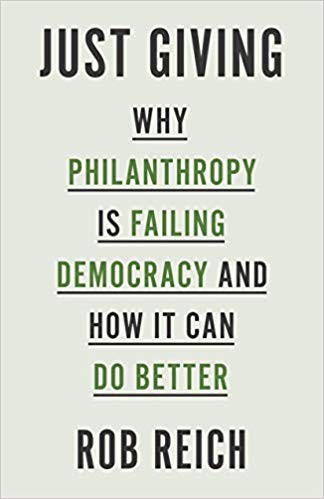 Just Giving: Why Philanthropy is Failing Democracy and How It Can Do Better by Rob Reich, Princeton University Press, 256 pp., November 2018, $33.35