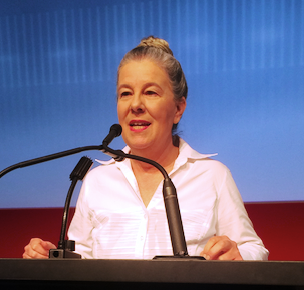 Over the course of 30 years, I have made $500,000 less compared to my male counterparts with similar jobs and similar levels of experience. That is a lot of money.
Thanks to social media, the "Show the Salary" movement has come to Canada. Show the Salary started an effort in Europe to ensure pay equity. It has already been adopted by AFP in the US and in Canada.
Why does this matter?
According to MacLeans, Canadian research finds that the pay gap for women of colour is shocking - earning 55.6% of what non-racialized men earned. That same study, by Sheila Block and Grace-Edward Galabuzi, found racialized men made 77.9 cents for every dollar that non-racialized men earn.
According to the 2012 Canadian Survey on Disability, as reported by the Canadian Women's Foundation, "women with a disablity in Canada working full- and part-time earn approximately 54 cents to the dollar when compared to the earnings on non-disabled men, equaling a wage gap of around 46%."
When Hilborn published our groundbreaking Canadian salary survey in the 1990s, the wage gap in the charitable sector was exactly the same as it was in other sectors. The charity sector is the sector that is supposed to make a significant difference in making our society better. A wage gap in our sector hurts us as a society and as a sector.
To be fair, as an individual, I have used wage surveys to negotiate for a more just wage for myself. And that has helped. But not everyone has access to wage surveys nor are relevant surveys available for all charity jobs, in all sectors, for all parts of Canada. Importantly. personal advocacy isn't going to make this right all on its own for our sector. We have to act together.
We have a challenge and an opportunity. Publishing salary ranges helps level the playing field for all in our sector. It's time for all charities, and charity sector publications, to #ShowTheSalary
Sources
MacLeans "For women of colour, there's a gap within the pay gap."
2012 Canadian Survey on Disability via the Canadian Women's Foundation
Ontario Nonprofit Network Decent Work
Ann Rosenfield, MBA, CFRE is a working fundraiser and the editor of Hilborn Charity eNews.
Cover photo by Luis Cortés on Unsplash