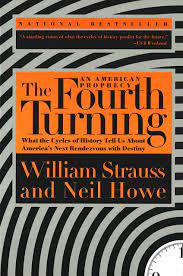 The Fourth Turning: An American Prophecy: What the Cycles of History Tell Us About America's Next Rendezvous with Destiny [1] is a book. It is also part of a deep, historical theory of re-occurring societal trends. The book was written by historians and demographers William Strauss and Neil Howe[2]. Surprisingly, it has been on various best-seller lists for the past several years but was written in 1997! In it, Strauss and Howe present some startling predictions for society over the next 4 to 9 years as great change happens all around us.
As we progress through this predicted period of "Crisis," successful fundraising will be challenging and necessarily different. No one knows precisely what is going to happen but we have enough information from historical cycles ( discussed in the quick summary of the book) to glean an idea of what the challenges might be for the fundraising sector and how we can strategize to best prepare for the eventual unfolding.
In three parts, this article will summarize the main concepts of the book and then try to answer the question – what has this got to do with fundraising? How can we plan for our charitable organizations to survive, and even thrive, in what has been predicted to be very difficult times ahead?
Why is a book written in 1997 so popular today?
The Fourth Turning is a scholarly pursuit of the historical theory of multi-generational, societal cycles or eras which repeat themselves every 80 to 100 years with astounding precision. The authors take us back to pre-Roman, Etruscan times and trace the many re-occurring cycles of history, right up to the present time.
They challenge the reader to look beyond our 21st century "linear" thinking in which society's evolution is thought to be ever-growing, always getting better year after year. Such linear thinking is readily accepted in the areas of economics, governance, culture and really, all aspects of society; however, as the authors show, history tells a vary different tale.
Linear thinking has been strengthened by the tremendous influence of technology and science on our society. Every year we learn more, discover more, invent more, and supposedly get better. But modern society is much more than technological and scientific advancements. There are very clear "rhythms" and cycles in history. The authors note that history doesn't always exactly repeat itself but it does indeed rhyme with pattern.
According to Strauss and Howe, society moves through distinct generational cycles with consistent characteristics, and does so with uncanny predictability. Focusing on Anglo-American history of the last 500 years, the authors lay out the characteristics of the four "turnings" in every 80 to 100-year cycle.
Turning

Name

Description of the Social Mood

1st

High

A recommitment to community life and new civic order
Positive outlook that leads to optimism, investment, and stability
Prosperity and growth for collective but little growth for the individual

2nd

Awakening

Challenge against the High's ideals of community and order
Search for depth, questioning of accepted ideals, rebellious attitude
Self-expression / individual important but still, faith in institutions

3rd

Unravelling

Society-wide acceptance of the freeing characteristics of the Awakening
No more rebelling but practical expansion of community values on an individual basis
Cynical alienation grows into pessimism and a mistrust in institutions

4th

Crisis

Crisis is a response to threats and change, a defensive posture for society and a fear of public peril
Societal order is coerced, people want strong, controlling government
Leads to exhaustion and desire for simpler times
Growing mistrust in institutions, increased social conflict
Almost always a war and financial upheaval
The rhythm of history has its ebbs and flows, good times and bad, expansion and retraction. "Turnings" can also be seen in the context of the four seasons: spring, summer, autumn, and winter. We are now well into the fourth turning – the time of Crisis, and of winter, and it will change everything about our lives.
A recent history overview
The last series of turnings in the Anglo-American world began after the Second World War and evolved like this.
Turning

Name

Dates

Description in Anglo-America

1st

High

'American High'

1946-1964

Surprising accord with industry and labour
Advent of the United Nations
High optimism for the future, growth of middle class
High trust and energy
Ends with the Kennedy assassination

2nd

Awakening

"Consciousness Revolution"

1964-1984

Boomer rebellion, questioning society's values, Vietnam War
Increasing violence for personal freedom, cultural upheaval
Rights revolutions (civil, sexual, women's, etc.)
Still acceptance of the good life and society's security and benefits
Growing economic instability, low productivity, stagflation
Parenting changes to focus on the freedom of the child

3rd

Unravelling

"Culture Wars"

1984-2005

Reagan era in the U.S., defeat of Consciousness Revolution and population content with high self-esteem
Public trust sinking but growing individual expression
Growing personal insecurity and start of the 'Culture Wars'
Societal lost purpose and shattered consensus
Growing pessimism and everyone 'for themselves' attitude

4th

Crisis

"The Fourth Turning"

2005– 2025 to 2030
IN PART II: Strauss and Howe's prophesies for the Fourth Turning Crisis, 2005 - 2030.
Ken Ramsay, is one of the most experienced planned giving professionals in North America. As President and CEO of Legacy Leaders Inc. from 1996 to 2014, Ken radically changed the way fundraising was done, securing over $2 billion in gift expectancies for hundreds of clients. He was the founding Chair of the Canadian Association of Gift Planners and co-founded with Frank Minton and Betsy Mangone, the course on Planned Giving at the Banff School for Management. He is currently the CEO of Empowerment Dialogue Inc and the Avatar Consulting Group.
---
[1] Strauss, William and Neil Howe, The Fourth Turning: An American Prophecy: What the Cycles of History Tell Us About America's Next Rendezvous with Destiny (New York, New York: Three Rivers Press, a Division of Penguin Random House LLC, 1997).
[2] Neil Howe is currently developing a new book which will in part, update The Fourth Turning. It is expected to be released in 2022.