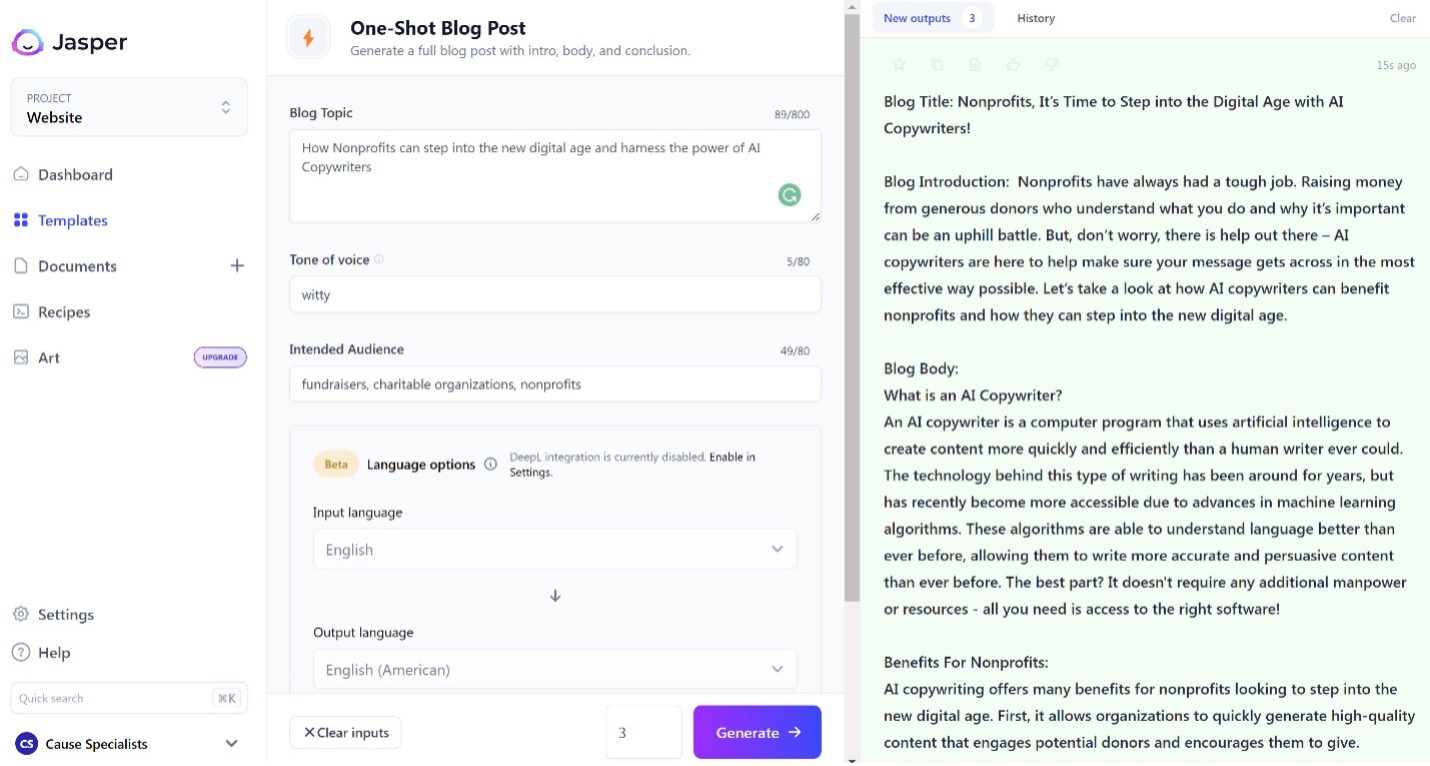 Full disclosure, I did not write this article. Jasper AI wrote this article! With new technology comes new opportunities, and one of the most powerful new tools is artificial intelligence (AI). AI copywriters can help nonprofits enter a new digital age by creating engaging and compelling content. AI tools can assist with everything from blog writing to social media captions and even SEO optimization, freeing up more time for nonprofit professionals. They can also help ensure content stands out in a crowded digital world.
Nonprofits have always had a tough job. Raising money from generous donors who understand what you do and why it's important can be an uphill battle. But, don't worry, there is help out there – AI copywriters are here to help make sure your message gets across in the most effective way possible. Let's take a look at how AI copywriters can benefit nonprofits and how they can step into the new digital age.
What is an AI copywriter?
AI copywriting offers many benefits for nonprofits looking to step into the new digital age. First, it allows organizations to quickly generate high-quality content that engages potential donors and encourages them to give. The technology behind this type of writing has been around for years, but has recently become more accessible due to advances in machine learning algorithms. These algorithms are able to understand language better than ever before, allowing them to write more accurate and persuasive content than ever before. The best part? It doesn't require any additional manpower or resources - all you need is access to the right software!
Benefits for nonprofits
AI copywriting offers many benefits for nonprofits entering the new digital age. First, it allows organizations to quickly generate high-quality content that engages potential donors and encourages them to give. Additionally, AI copywriters can provide personalized messaging for each donor segment based on their interests and behaviour history. Finally, AI copywriters can save time and money by automating mundane tasks like blog writing or writing social media captions - meaning you can focus on what really matters: raising money!
AI copywriting in action

To illustrate how effective AI copywriting can be for nonprofits, let's look at an example of how one organization used it successfully. This nonprofit needed help with its fundraising campaigns but could not hire additional staff due to budget constraints. They decided to try using an AI copywriter instead of hiring someone new – and the results were impressive! After implementing the program, they saw their donations increase by over 20% in just three months! Not only did they save time and resources by having an automated system do the work for them, but they saw an impressive return on their investment from increased donations as well!
Nonprofits face unique challenges when trying to engage with their audience online; however, utilizing an AI copywriter can help bridge that gap by providing personalized content quickly and easily without sacrificing accuracy or quality. By leveraging this technology for your organization's digital presence, you can create more targeted campaigns faster while taking advantage of up-to-date trends in your industry – all without breaking the bank! So, what are you waiting for? Take advantage of this revolutionary technology today and enter a new digital age!
In closing, I chose not to edit Jasper's work for this article.
As you can see, its capabilities still have room for improvement. Even so, this technology has tremendous time-saving benefits and provides inspiration and new angles when creating compelling copy. For these reasons, I believe using technology to help craft copy is a promising idea worth further exploration.
Joanne Toller, CFRE (Ret.) has been a professional fundraiser for over 25 years. She is the Founder of The Cause Specialists, specializing in digital marketing and fundraising.