publication date:
May 16, 2023
|
author/source:
Ann Rosenfield, MBA, CFRE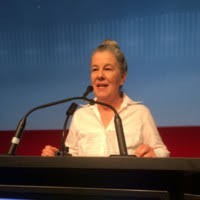 Canadians are famous for apologizing. People often joke about how much we say "sorry." Canadians seem to believe a good apology is an important way to show respect.
In recent months, there has been an upswell of attention relating to actions the AFP Greater Toronto Chapter took in 2019 in disenfranchising a Black Board member. This led to the resignation of that Board member and two other Black Board members. In recent months, Nneka Allen, CFRE, COC, PCC, Mide Akerewusi, B.Sc., M.Sc. (Econ), CSR-P, CDEP., and Múthoní Karíukí HBSc, MPNL, CFRE have been asking for an appropriate full apology from the Association of Fundraising Professionals.
While AFP has issued fuzzy statements, there has not been a clear and personal public apology to these three individuals that I have seen. AFP has issued vaguely worded "mistakes were made" statements including this one but not a direct and personalized atonement.
None of the key players from 2019 are still active in AFP Greater Toronto.* Furthermore, last Friday, AFP Global did finally issue a broad outline of next steps to address issues raised by Ms. Allen, Mr. Akerewusi, and Ms. Karíukí. This statement appears to show that AFP believes the concerns raised by these former Board members are with merit and require action.
In its own words, AFP aspires to be an IDEA (Inclusion, Diversity, Equity, and Access) leader. AFP has the size, scope and resources to make a powerful, positive impact in our sector. It is an organization that adopted it's first code of ethics in 1964. AFP is a large professional association with over 25,000 members and a budget over $9M with the ability to be an important influencer in the charitable sector.
While a few of the former 2019 Toronto Chapter Board members have issued public personal apologies for their role in this, AFP Toronto and AFP Global have not stepped forward. AFP needs to seize this moment to demonstrate leadership. The only way forward is to tell Ms. Allen, Mr. Akerewusi, and Ms. Karíukí how sorry AFP is and to apologize to each of them.
*Update | On May 16, 2023, AFP announced that the entire AFP Greater Toronto Chapter Board and the Executive Director have stepped down. In the interim, AFP Global will oversee the Chapter.
Ann Rosenfield, MBA, CFRE is the longest serving member of AFP Greater Toronto Chapter. She joined AFP, then known as NSFRE, in 1989 before she had her first paying job as a fundraiser. For the Greater Toronto Chapter, she is a past Board member (2004-6), Congress Chair, Education Committee member, Ethics Committee member, Inclusive Giving Mentor, and many other roles formal and informal. She also has served the AFPIHQ Nominating Committee and is a former online mentor. She has written several articles for Advancing Philanthropy [AFP's magazine], spoken at AFP Congress, Fundraising Day and ICON. In January, 2023, Ann was featured in the "Member Spotlight" for AFPIHQ and authored a blog post for AFP Toronto in January 2023.