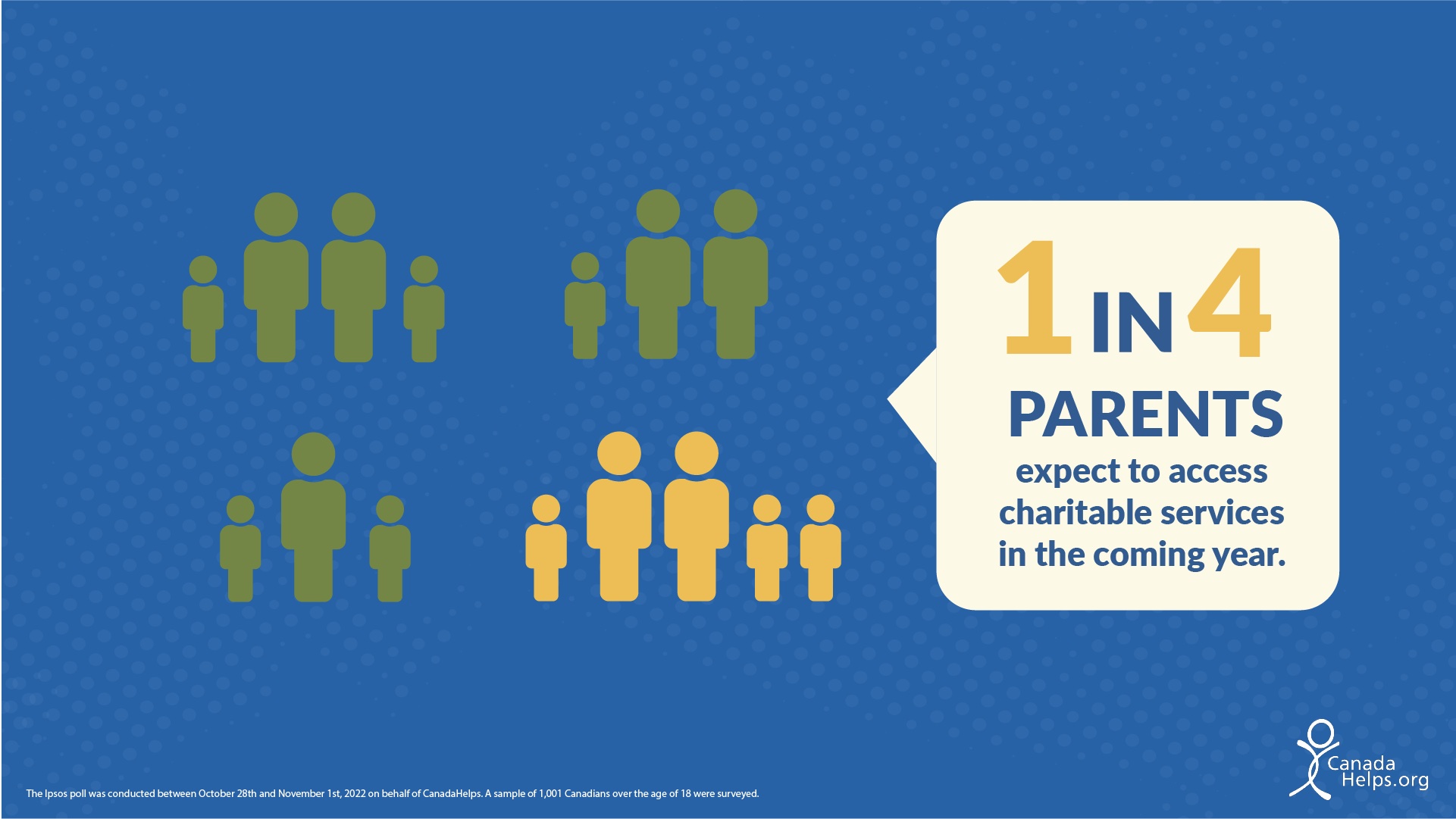 CanadaHelps, the country's largest platform for donating and fundraising online, has published the findings from a new Ipsos poll that reveals 22 percent of Canadians say they plan to access charitable services to meet essential needs such as food, clothing, or shelter in the next six months. The growing demand for charitable services is exacerbated by rising interest rates, ongoing economic uncertainty, and higher costs of living. This confirms worst fears from a January 2022 Ipsos poll which indicated that this drastic increase in demand was imminent. At the time of the January 2022 study commissioned by CanadaHelps, 14 percent of Canadians were relying on charitable services to meet their basic needs.

To help ensure charities have the funds needed to address growing demands, CanadaHelps has launched a "12 Ways to Give" national awareness campaign showcasing the wide range of charitable giving options that are available to meet every budget and lifestyle. The holiday season unofficially kicks off on November 29th, GivingTuesday, a global day to celebrate and engage in giving.

Canadians relying on charities to meet essential needs
One in three Canadians (35 percent) between the ages of 18 and 34 expect to access essential charitable services such as food, clothing, and shelter, which is higher than those between 35 and 54 years-old (26 percent) and those 55 years and older (10 percent). One in four parents (27 percent) are among those expecting to access essential services through charities. 30 percent of Albertans expect to access essential services from charities in the next six months — the highest percentage of any province or territory in Canada.

Canadians planning to give less in 2022
At the same time that demand for charitable services is rising, Canadians are widely scaling back their charitable giving.
Only 13 percent of Canadians are planning to give more in 2022 than they did in 2021, while 45 percent will give the same amount as they did in 2021, and 20 percent of Canadians expect to reduce their charitable giving this year.

22 percent of Canadians don't plan to engage in charitable giving — the same proportion of Canadians that expect to rely on charities to meet basic needs in the next six months.

74 percent of Canadians who are giving less this year identified the rising cost of living as the key reason why they are not giving as much as they did in 2021.

31 percent of respondents cited financial challenges from the pandemic as a reason they are giving less, while 10 percent reported that giving isn't a priority for them. 1

8 percent of households making $100,000 or more expect to reduce their charitable giving this year, while only 13 percent expect to give more, which indicates that many households with higher incomes are reining in discretionary spending. This finding is similar to data published in The Giving Report 2022 which highlighted that from 2006 to 2019, families with incomes of $150,000 or more had the highest annual rate of decline in donation amount among all income bands, declining at an annual rate of -3.3 percent, while families with incomes between $20,000 and $99,000 had an annual rate of decline between -1 percent and -1.5 percent.

For more information on CanadaHelp's 12 Ways to Give and many other great ideas for how Canadians can support charities and give back this holiday season, visit the CanadaHelps blog.
About the Ipsos Poll
These are some of the findings from an Ipsos poll conducted between October 28th and November 1st, 2022 on behalf of CanadaHelps.org. For this survey, a sample of 1,000 Canadians aged 18+ were interviewed.
About CanadaHelps
CanadaHelps is a public foundation advancing philanthropy through technology. For Canadians, it powers CanadaHelps.org, a safe and trusted destination for discovering and supporting any charity in Canada, and UniteforChange.com, where Canadians can learn about causes and easily support the collective work of charities addressing a cause they care about.