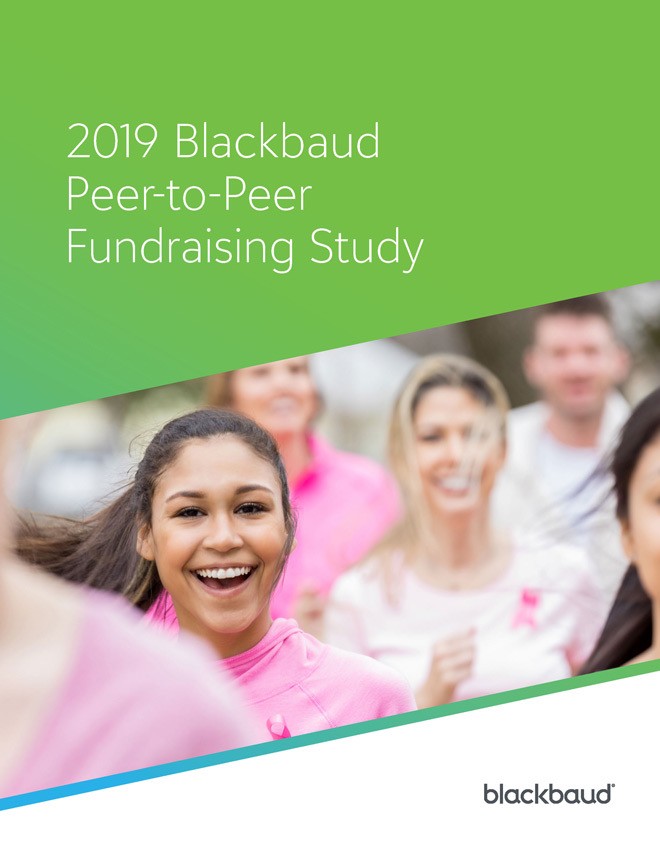 According to our most recent Charitable Giving Report, which leverages the Blackbaud Index to provide a year in review based on the largest analysis of overall and online giving data anywhere in the nonprofit sector, overall giving is up for North America (shout-out to the Canucks for an increase of 1.9% in overall charitable giving compared to 1.5% in the United States from 2017 to 2018). And online giving increased 6.9% for charities in Canada compared to the 1.2% growth experienced by U.S. charities.
We can see this trend carrying forward in the results of the 2018 Peer-to-Peer Top 30, a survey of Canadian fundraising programs. Fundraising revenue for Canada's 30 largest peer-to-peer fundraising programs increased 1% in 2018 to $243.3 million. This is the first time in five years of the survey's history that these programs welcomed an increase in revenue. So, what is contributing to this welcomed increase?
Retooling Heritage Programs
We are seeing a transformational trend with strategic organizations reshaping their flagship peer-to-peer programs. They are building retention and tapping into the unique needs and desires of these committed supporters. Cycling events are finding ways to be more inclusive, especially with adaptive athletes. Virtual rides, high-performing challenges for the diehard cyclists, and half-day participation options are some examples. This portfolio expansion opens acquisition channels to initiate new people to their cause and offers more than one engagement opportunity for long-standing supporters
Proud to be Canadian: It's Still All About Culture
Canadians love giving! It's contagious. The need and the ability to step up and help their neighbours is part of what makes them Canadian. Canadians are drawn to the general notion of philanthropic giving and the desire to contribute to the community, and less interested in a commitment or connection to a specific charity.
Our research supports this positioning. According to the 2018 What Canadian Donors Want survey— conducted by the Association of Fundraising Professionals (AFP) Foundation for Philanthropy (Canada) in partnership with Ipsos—80% of donors give to more than one cause, with 23% giving to between four and five charities and 13% supporting six or more causes. Pretty compassionate, eh?
Individual Fundraising Performance
When analyzing the philanthropic giving of Canadians, take note of the average dollar raised per participant and per fundraiser. Canadian participants surpassed their U.S. participants in average dollars raised per participant by almost double in the Cycle, Reg Fee, and No Reg Fee categories. The same trend can be seen in average dollars raised per fundraiser, although the gap isn't as drastic.
The interesting area where we see a dip in average dollars raised per participant and per fundraiser is in the Endurance category. Endurance events in the True North are more geared toward personal achievement and personal bests. Humble Canadians want to run marathons, hike, and complete mud run obstacle courses for personal accomplishment and are less fueled to fundraise for the cause. These types of high-value endurance events attract a wide audience willing to pay a registration fee but with less motivation to fundraise.
It's true: Participants who send emails raise more money. But it doesn't mean you should start inundating your contact list with overwhelming requests. It's the quality of said emails, not quantity. In this case, size does matter. As the data suggests, Canadians outperform their American counterparts in this area. They have a higher number of participants sending a lower volume of emails yet raising more money.
This is storytelling at its finest, as Canadian participants tend to update their personal pages slightly more than American participants, most notably in the Cycle, Reg Fee, and No Reg Fee categories. Again, witness the importance of sharing one's story and tapping into the compassionate heart of a Canadian. In both countries, personal page updates are a strong indicator that an individual will fundraise.
In the last publication of this Study, Canadians had a slightly smaller average online gift amount than their American friends in all categories. Interestingly, we see a shift as we analyze the year-over-year data for 2017 and 2018. Online average gift now trumps that of the United States in the Cycle and No Reg Fee categories. In Reg Fee events, the average gift by a Canadian is just shy a "loonie" when compared to the United States. Fundraising is seasonal in Canada and most peer-to-peer events are conducted within a condensed time frame, hence the influx of donations requests within this narrow period.
Culturally, Canadians would respond to all of these requests and parse out their contributions, ensuring that they have not disappointed any family member or friend. But the amounts dispersed appear to get larger over the course of 2017 and 2018. Sharing is caring!
Loyalty Among the 5K/Walkers
Walks are not dead! They are alive and well. Canadians' devotion to 5K/Walk events still leads the way, with more than double the returning participants compared to those categories in the United States. The loyalty is real with the events that have no registration fee. These dedicated individuals are all about supporting the cause and those dearest to them who have been affected. They return every year to show homage and embrace one another in the spirit of community.
The Future of Canada: The Case of the Disappearing Donors
Some poutine for thought, here: According to the 2018 Giving Report by CanadaHelps, which uses Canada research and tax data from the Canada Revenue Agency, Canadians in the 55 or older age group give significantly to charity. Collectively, this group was responsible for giving $6.4 billion in 2015, almost double the $3.5 billion given by Canadians aged 25–54. In fact, the group aged 25–54 experienced the largest decline in giving of all the age groups. This giving model is unsustainable for the sector. So, the question arises: As Canadians in this group enter retirement or are already retired, who will replace them? Canadian charities need to be very cognizant of this daunting giving gap. They need to pave a clear path for the future generation of givers: those of the Millennial and Generation Z mindset. Seeing immediate impact on social causes is what interests and motivates these groups. They expect the power of fundraising to be brought to them—digitally, on their terms, when they want, and where they want—and they wanted it yesterday.
For a full copy of the study (including great charts comparing Canada to the US, click here.
Blackbaud (NASDAQ: BLKB) is the world's leading cloud software company powering social good. Serving the entire social good community—nonprofits, foundations, corporations, education institutions, and individual change agents—Blackbaud connects and empowers organizations to increase their impact through software, services, expertise, and data intelligence. The Blackbaud portfolio is tailored to the unique needs of vertical markets, with solutions for fundraising and CRM, marketing, advocacy, peer-to-peer fundraising, corporate social responsibility, school management, ticketing, grantmaking, financial management, payment processing, and analytics. Serving the industry for more than three decades, Blackbaud is headquartered in Charleston, South Carolina, and has operations in the United States, Australia, Canada, and the United Kingdom.