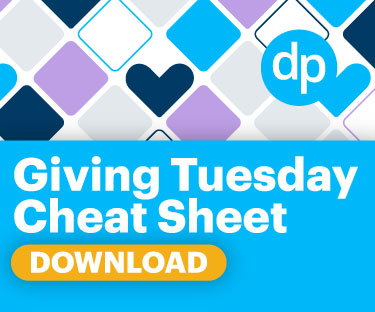 DonorPerfect asked organizations that have had success with their Giving Tuesday communications about their "best practices."
The result is this 4-Step Plan for Giving Tuesday content creation.
Step #1: Communicate your theme through your Giving Tuesday form
● Create the content that will live on your Giving Tuesday form, including a title, description, and giving levels that match your theme.
● Decide how the Giving Tuesday form will be promoted - assess major and matching gift interest, appoint social media ambassadors, or consider a giving contest.
Step #2: Communicate the impact of your Giving Tuesday campaign
● Create impact stories and giving level descriptions that fit your overall theme. If you don't have impact stories written, recorded, or in memory, try talking to a few constituents and team members, or ask them to record a video.
● Share impact stories and campaign goals across your network - meet with partners, donors, and community members to explain the urgency, recency, or relevancy of your Giving Tuesday campaign.
Step #3: Create hype around your Giving Tuesday campaign
● Create Giving Tuesday reminders to promote the campaign - use tailored messaging for each donor segment you are targeting.
● Send Giving Tuesday reminders across your network. Be sure to link to your donation page, share photos, and use the #GivingTuesday hashtag, or one that matches your campaign theme.
Recommended touchpoints
Campaign Reveal email (Early November)
Reminder email (Mid-November)
Reminder email (Day before Giving Tuesday)
"It's here" email (Day of Giving Tuesday)
Step #4: Consider the copy you'll need to update and steward donors
● Develop content for Giving Tuesday goal updates. It doesn't hurt to use a template or to brainstorm subject lines in advance.
● Determine your plan to make each donor group feel special. Again, it doesn't hurt to use a thank-you template that you can quickly customize for different situations when Giving Tuesday is over.
Want to manage your entire Giving Tuesday campaign - planning, writing, and stewarding - with one master checklist? Get the Giving Tuesday Cheat Sheet!

Your download includes an Online Guide with helpful links and a print-out checklist to cross off tasks as you go.
Happy giving season!