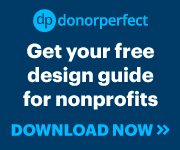 With the right design and consistent branding, your nonprofit can stand out in a sea of thousands of other organizations – to both prospective supporters and people who could benefit from your services. The DonorPerfect team asked Abby Guido, design expert and educator at Temple University, for advice and free resources nonprofits can use to dial in brand strategy and boost visibility.
Luckily, you don't need to be an expert, have room in your budget to hire an agency, or buy expensive software. This free guide is full of practical, DIY design tips specifically for nonprofits.
Building a brand
Your nonprofit's brand is so much more than a logo: it's a visual shorthand for everything you want your audience to know and feel about your organization. Consistent branding means your audience will recognize, trust, and rely on your nonprofit's communications, and you will be at the top of prospective donor's minds when they're looking for the right organization to support.
Designing a website
Your users will interact with your nonprofit's website on a variety of devices, and it's important that your website is up to the task. Many website builders allow you to preview your website as it appears on a desktop, smartphone, or tablet and use drag-and-drop templates for easy design help.
Designing a form
Whether for collecting online donations, supporter surveys, or volunteer information, online forms make it easy for your supporters to engage with your nonprofit. An estimated 68% of prospective donors don't complete online donation forms after they start, leaving valuable gifts on the table that could otherwise be put to good use.
Designing an email
While many email readers typically absorb text in an orderly, top-to-bottom, left-to-right fashion (depending on the language), studies of heat maps show that before they start to read, users' eyes are first drawn to parts of a piece that have the most visual "weight." Simply offsetting your call to action, with something like bolded text or a bulleted list, will create enough visual interest that - even if your audience doesn't read the email all the way through - they will be drawn to the most important pieces of information.
Designing a social post
In 2020, 67% of internet users in Canada engaged with at least one social media platform, and it's expected this figure will surpass 80% by 2024. Out of 9,000 Canadian and American nonprofits surveyed, 67% do not have set policies, strategies, or goals for social media. With thoughtful planning, your nonprofit can stand out from the rest and reach your audience where they already are.
Tools and Templates
Learn more and get links to free design resources, including:
Constant Contact - Email Builder
Give Cloud - Website Builder
DonorPerfect Online Forms - Form Builder
Slides Carnival - Presentations
Biteable - Animations
Desygner & Canva - Graphics Builders